*FUN FACT: Joyce and I have always stumbled each other at events where foods are involved. We've always end up at the corner seating and enjoying our food while most of the time we could be chit-chatting for hours, and we'll be talking no other than food. That's the reason why I think she's a foodie and that I should feature her in my Featured Foodie blog.
So, we've gathered some interesting, food-related questions for Joyce to answer and check out what she have answered for our questions: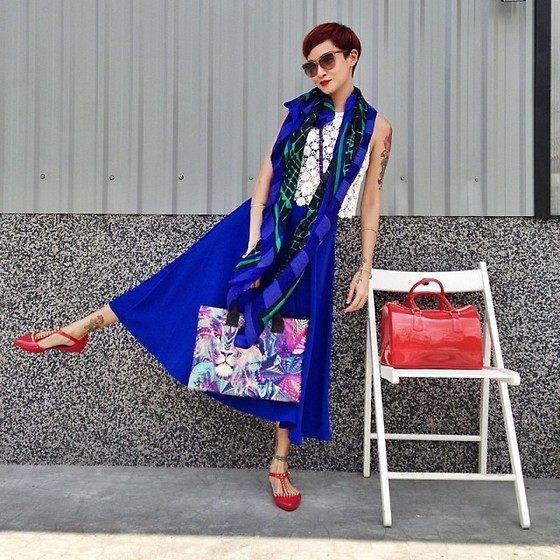 Q: What is your fondest childhood memory when it comes to food?
A: Pulling apart Chee Cheong Fun so it rolls out into a long strand, mixing it with the sauces and chilli and digging in with my babysitter in Penang!
Q: What's the best meal you ever cooked?
A: My greatest cooking achievement must be single-handedly cooking Christmas dinner for 24 people. It took me 2 days of prepping, cooking and meticulous calculations for oven slot time! There was roast turkey, pumpkin + feta lasagna, Christmas ham, prosciutto and raspberry salad, homemade sauces, but I must be forgetting other things. Everything turned out great and i patted myself on the back for it. Barely ate anything myself though.
Q: What's the worst meal you ever cooked?
A: It must have been these very salty burgers I handmade for my birthday. The mistake was mixing them after a spliff. Cooking high is not my forte.
Q: If you had a chance to cook for a group of people (dead or alive) what would your dinner party guest list look like? 
A: Salvador Dali, Sarah Jessica Parker, Robin Williams, Haruki Murakami, Tina Fey, Aziz Ansari
Q: What is the best meal you have ever eaten in your entire life?
A: Oh wow this is a very unfair question! It's just not possible to pick just one! It might have to be… Robouchon au Dome in Macau in 2015. Everything was faultless – the stunning view, impeccable service, beautiful wines paired with the most stunning dishes. We had Salmon tartare with French caviar, tiny purple edible flowers, gold flakes, gold turmeric sauce, and crisp bread; Yamagishi egg that I burst to eat with its accompanying spinach ravioli, parsley emulsion and morel mushroom; Cod with cauliflower puree and florets with Hokkaido sea urchin… it was all almost too beautiful to eat. Gorgeous presentation and flavour.
Q: Favourite beverage?
A: If I had to choose one that I had to live for the rest of my life, it would be wine. Currently back into Pinot Noirs.
Q: If you could eat one thing for the rest of your life what would it be?
A: Oh damn. Tough one. This is gonna sound super boring but I'm gonna say salad. Cos technically that's what's gonna keep me alive the longest if it's the ONLY thing i could eat ever!
Q: Current favourite establishment in KL 
A: Sitka Studio. Their tasting menus change often, and the most memorable dish for me is their flattened chicken skin with colourful circles of cauliflower and foie gras puree and tiny grapes. I also love their selection of organic wines.
Q: What makes a good, great and excellent cook?
A: Passion, patience and confidence.
Q: What is your kitchen must have? 
A: Me.
That's all for now, keep an eye on this spot for more updates from Dish By Ili. To Joyce, keep being awesome and I love how enthusiastic you were, not just in what you do career-wise, but also when you're cooking too. Keep it up and hope to see you again soon! Love xxx
(Photo credit: Joyce Wong)